Description
It's Time To End This Nightmare And Make Your Dream Marriage A Reality
Many of you could learn how to save your marriages through the long and brutal path of trial and error, and eventually may reach success, but a lot more of you will become additional casualties in our growing divorce statistics.
Don't risk the reality of being divorced, broke, lonely, watching your spouse with another person, and wishing that you had taken your marriage seriously while you had the chance.
If you could do anything to avoid the sickening feelings you have right now, and the emotional, financial, and physical pain of divorce, you would grab it with both hands wouldn't you?
I'm throwing you a lifeline here, but you are running out of time before your spouse walks out of your life forever so you have to ACT NOW.
What's it gonna be?
Picture this: It's a year from today (or a lot sooner), and and your marriage is so solid and strong that all your friends are remarking how happy you and your partner seem to be. You've recovered from the stress you went through last year due to your marriage issues, and you are in a much happier place. You laugh together, hug and hold each other, tell each other how much you love one another, and you feel so lucky to have been given a second chance to get things right. Even better, you know that it would take wild horses to tear you and your spouse apart now.
Now, stop and look back on today. Considering that you've resolved this major crisis in your life and learnt so much about successful marriages, and know that you will never be as stressed again in the future, what price tag would've made it a good investment?
I've had people tell me they would happily pay $1000 or more to achieve these life-changing results, and many have offered me more than that for one-on-one consulting.
However I'm not even going to charge you anywhere close to that price AND if you join TODAY, you will receive a free email-based consultation with your order! (This takes a lot of time for my team and I, so we can't guarantee this bonus will be available for very long)
Save My Marriage Today PLUS ALL the bonuses, is available to you TODAY for…
Just one payment of $49.95!
I know people think I'm crazy, but I want to make this course as accessible as possible to help more of you avoid the unnecessary pain of divorce. I want you to be as happy as my friend Jane and the 6000 other couples who have achieved success with Save My Marriage Today!
Click Here to Save Your Marriage Right Now!
But if that's not enough to get you to click that button and commit to a better life and a happy marriage, check out what else I've thrown in to help you…
I Will Take All The Risk With A 60 Day Instant Money-Back Guarantee
That's right! Take 60 days to use and examine my crucial information, and techniques in "Save My Marriage Today." That's more than 8 weeks to put these valuable strategies to work on your marriage.
Try the techniques yourself… Try as many of the tips as you can. Once you have used these strategies on your marriage, I'm confident that you'll NEVER want to send it back!
But, if you aren't satisfied for any reason, or it doesn't live up to your expectations, you won't be out one red cent. Just send me an email and I will refund your payment. Right up to the final day of this 60 day guarantee.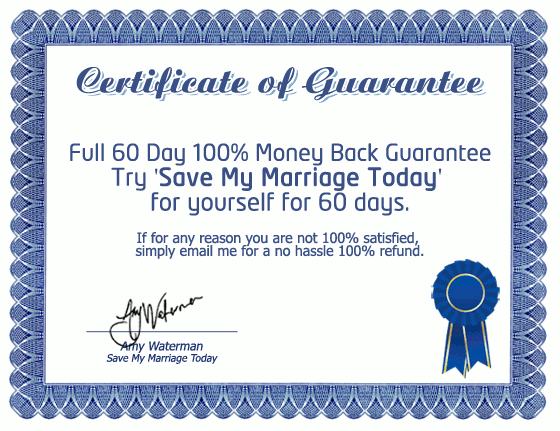 You have nothing to lose and a marriage to gain. I can't make it any fairer than that, can I?